1 Jul 2007
Gosford RSL Workers Club, Gosford NSW
The traditional umbrella notion was flipped on its head for this project at Gosford RSL. Four 5m x 5m umbrellas were inverted allowing water to flow into the middle and not over the sides of the umbrellas. Membrane gutters between umbrellas catch rain water. Some redesigning and simplifying made these umbrellas installer friendly and also client friendly saving $1000's on comparable systems. The resultant visual effect was clean, uncluttered and dry.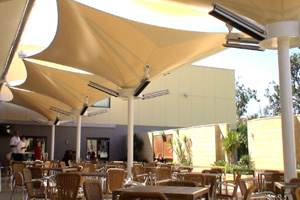 The umbrella project was part of the refurbishment of an outdoor terrace to fit in with current trends of offering quality outdoor facilities for club patrons. The umbrellas were located adjacent to the club restaurant in a total space of 225sm.
These umbrellas were inverted such that water flows inwards into the central mast which was plumbed back into the club's drainage system. Electrical power was also concealed within the central mast through a waterproof conduit. Framework, other than the main mast, was kept above the fabric. As always, translucent membrane structures provide ambience in a modern theme. Gosford RSL Club was pleased with the quality and finish as was the head contractor who engages our company on other outdoor projects.
This project received the "Peoples Choice Award" in 2007 by our national association ACASPA. This highly coverted award signifies recognition from our piers - our competitors, within the industry, of the quality of the Gosford RSL umbrella project.
Back