View Vehicle shade projects by design.  Our designs include Barrel & Framed Structures, Cantilever, Colorbond and Shade Sails.
Vehicle Shade Structures & Shade Sails
Abacus Shade Structures builds shade structures and shade sails for vehicle protection in commercial & retail carparks, for commercial car washes and as carports for the home. Of the many reasons to shade vehicles comfort & protection are top of the list.
Heat and rain make it uncomfortable to get into and out of vehicles. In the work place, commercial car yards and shopping centres cool vehicles make shopping and work more comfortable.
Vehicles  protected from storm & hail damage have lower insurance premiums and claims.
Structures are weatherproof and engineered for strength.
An economical carport awning can protect cars, boats or caravan from the elements. Vehicles preserve value and quality of finish when they are shielded from the elements.
Abacus can show you a wide range of design options and can take the headache out of compliance, council and Workcover obligations to build shade structure protection for motor vehicles.
Designs
From bright sails to carpark cantilevers, we design motor vehicle shade structures.
Protection
Protect vehicles from sun, storm and hail damage and keep insurance costs down.
Offset Posts
Vehicle structures add comfort from heat & rain without posts in the way of moving vehicles.
Skill
Our team are skilled in design, engineering, welding, fabrication and installing.  
Featured Motor Vehicle Project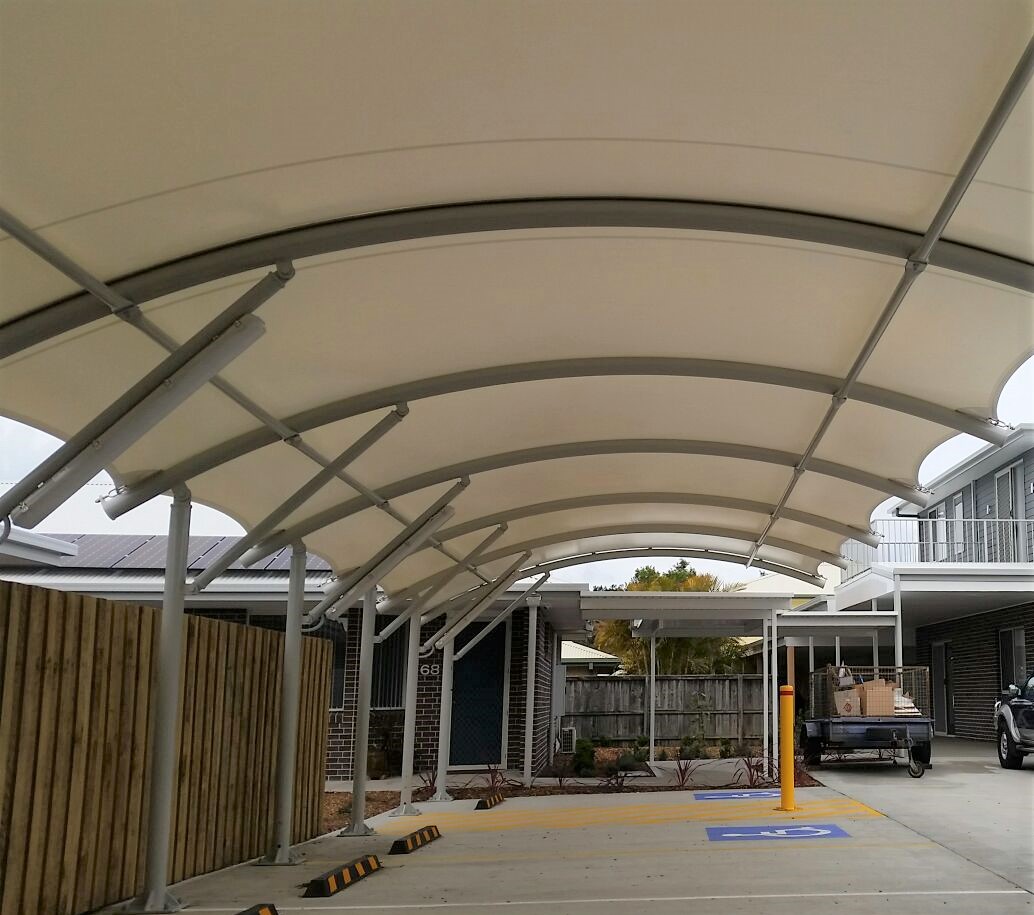 Sunrise Living, Tuncurry
The level of services has been improved at Sunrise Supported Living, Tuncurry with the addition of car park shade structures. The Mid North Coast can be very hot in the warmer months and receives ample rain. These PVC cantilevered car park structures will provide comfort and safety for residents and visitors.
The fabric is White Versaidag TXA-750F PVDF which carries a 15 year warranty and the steel frame is painted Shale Grey.
Co-ordination with the electrician enabled lighting to be added to the car park structures. Cables are hidden inside the steel frame. Light reflects off the PVC to increase illumination.
Abacus Shade Structure travels around NSW building shade.
View Motor Vehicle Shade Projects
For a Quotation on your Vehicle Shade Project
Abacus Shade Structures will provide you with a no obligation quotation for your project.  Please call our Sales team on 02 4735 4800 or 02 9831 1218 or use the form below.