Considerations in shade structure design
Click to view section
The Brief
Collaboration
Shade structure design involves all parties;  client, builder, architect, engineer and regulators. Communication is key to a successful project.
The  client needs to build confidence in their installer's knowledge and ability.  Abacus Shade Structures  is supported by  experience and  reputation. With over 35 years building shade structures we know shade structures.
Parameters
Parameters set up the criteria and framework of what can be designed. These parameters may include sun movement, landscape, buildings, time of use,  property boundaries,  rules,  neighbourhood, playground equipment, paths, sub strata services, soil types and access. Good design considers the parameters.
Purpose
What does the structure needs to achieve. Is the visibility, function, aesthetics, rain  protection,  sun protection, privacy, refurbishment  or a combination of these. each structure is unique.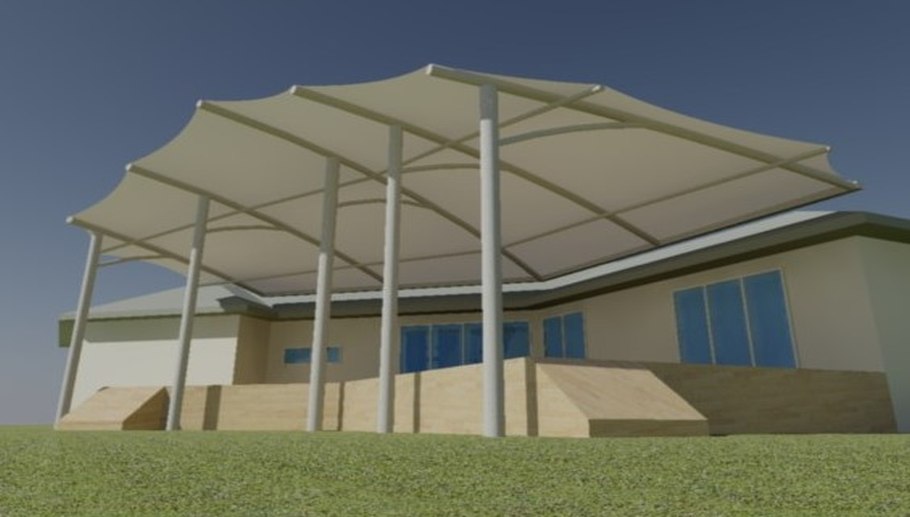 Budget
Finding the right price balance is a challenge.  Projects vary in complexity, type of materials used, finishes and purpose. These factors will affect pricing.
When comparing shade structures to other outdoor building products on the market, shade structures are a competitive option. Competitiveness comes from a low initial cost,  low cost ratio to years of life of the structure and zero operating costs. 
Shape and Form
Curves
Sails have curves. Curved sides or catenary curves occur between connection points to tension and spread load imposed on the fabric when there is no other frame. Tension applied by a perimeter cable imposes forces which want to straighten the curve to tighten the sail to create the tight appearance which are a feature of sails.  Curve range from  5-10% of the length of the span and are considered in design.
Umbrellas 
Umbrellas, Inverted Conics, Claws and Hypar Umbrellas fit into this category characterised by one or several peaks supported by a central or side pole or mast.  A central ring may connect the fabric to the central support of the mast to facilitate erection and stressing of the fabric.  A Hypar Umbrella has one mast and alternating high low corners like a sail.
Sails
A simple saddle system or Hypar Sail is a three, four or more pointed structure formed when the fabric is tensioned firmly between a set of alternating high and low points. Much of the appeal of hypar sails is in the 3D twisted appearance.
Another striking sail style are Repeat Pattern Sails .  Fabric is supported along the perimeter by parallel masts with the fabric alternating between high and low points.
Arch supported systems
Cantilevered, Gull Wings and Barrel Vault Structures.These designs  can avoid interior post supports and introduce curved compression members as the main supporting element for lateral stability in  arch-supported systems.  Cross arches or diagonal bracing may be used. These systems are capable of spanning large distances.
Hip Roof Structures
Span Shades belong in this category. A strong modular framework  supported by straight steel members with a membrane roof.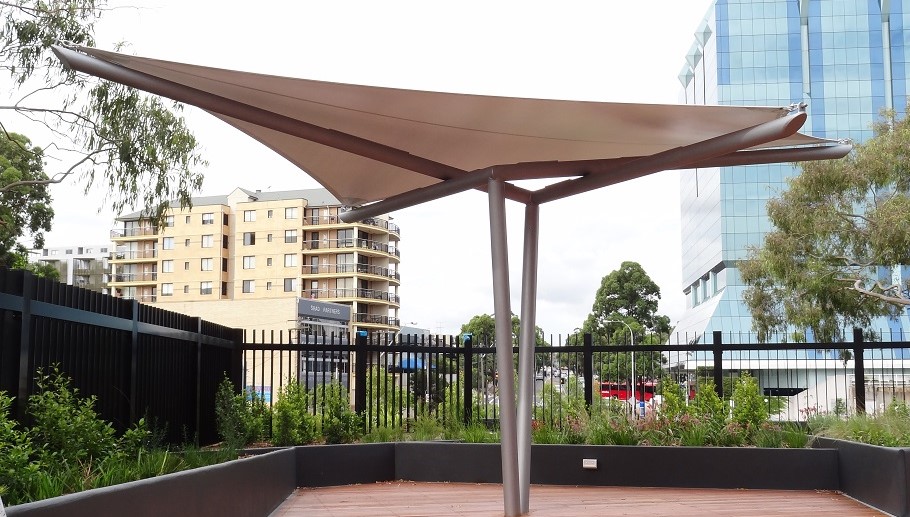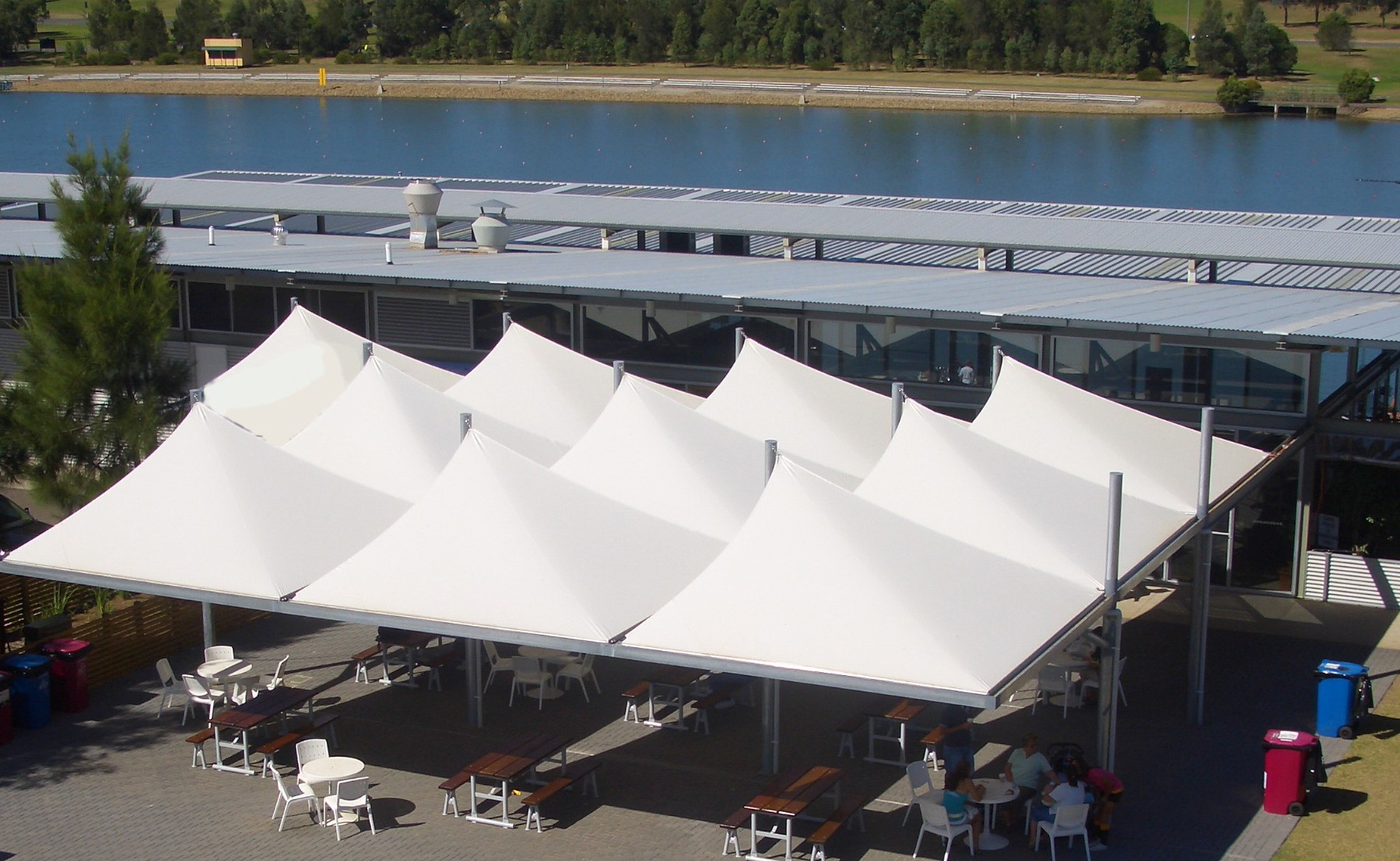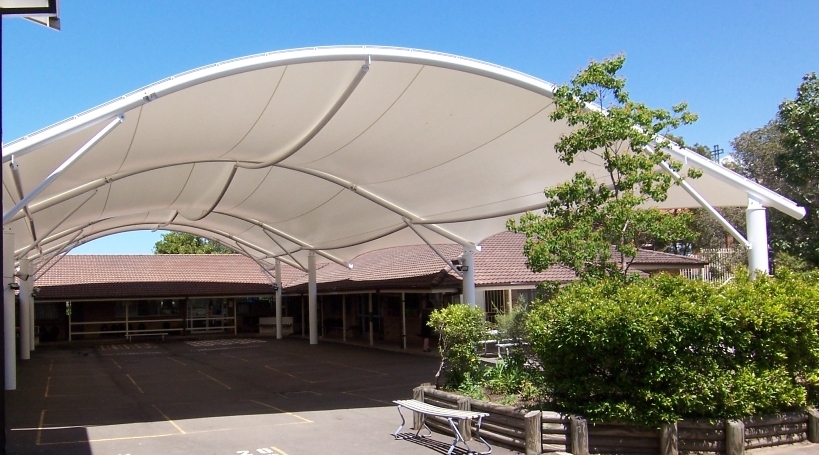 Components
Membrane Fabric
The membrane fabric forms the roof or skin of the structure. Knitted shadecloth and PVC sheets are types of membrane fabrics. Fabric is sewn, glued, electronically welded or heat-sealed. Fabric properties include strength, thickness, elasticity, weight, UV resistance and coating thickness, anti-mould, anti-wicking.
Posts and Framework
The support frame is the heaviest component of the structure. The sizes of steel posts and overhead beams including diameter and wall thickness and method of fixing at ground level is dependent upon the design, the membrane and engineering specifications for the project. Steel frames may be  curved or  straight, round (CHS) or right angled (RHS).All structure is unique.
Track  
For a smooth seal or a straight fabric finish track is used.  The track is fixed to a beam or a building and the fabric slides through the track.  Tracks are extruded aluminium profiles.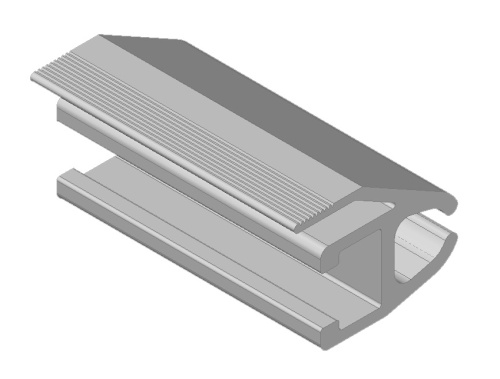 Connection Points

Connection points connect the fabric membrane to structural elements. Structural elements  include posts, overhead framework or walls.  Connection points support and carry loads imposed by the membrane.
Connection points are determined by design and site limitations eg Alternating connection points on twisted hypar shade sails lead to interesting 3D effects.
Shade Hardware

Shackles, turnbuckles, terminal end swages, bow shackles, wire rope grips, are just a few of the hardware choices available for connection points in shade structures. Tensioned structures commonly consist of steel cabled hems with threaded end fittings. Hardware comes in 316 and 304 grade stainless steel and 8.8 structural and 4.6 regular grade galvanized steel.
Structural loads and requirements for a tensioned membrane structure dictate the size and shape of hardware.
A wide selection of shade sail fittings and hardware are available for general sale from our E-shop by following the link below.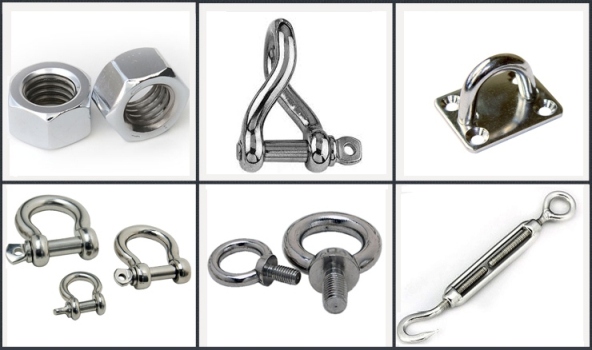 Engineering
Engineering  is recommended for all shade structures. Engineering will specify footings, steel sizes, cabling and loads to ensure structural integrity and compliance is reached.  After the project is constructed, final engineering certification confirms the structure was built to plans.
Abacus Shade Structures provides engineering as an additional layer of professional reassurance in an area which may be technical and quite unfamiliar to clients.