See our comprehensive portfolio of shade structures for Hospitality, Restaurants, cafes & clubs and then look at the possibilities.
Hospitality & Restaurant Shade
Abacus Shade Structures builds shade structures for restaurants, clubs and sports venues.
Shade structures provide the basis for a successful indoor/outdoor dining area, cafe  or restaurant providing  ambience, light, design and practicality.
Family friendly dining areas in clubs and cafes feature playground equipment shaded by brightly coloured sails close to ambient comfortable dining spaces utilising shade structures and PVC materials.
For sports spectators, shade structures and tension structures offer the comfort and weather protection. For promoters, shade structures offer value added ticketing potential as patrons  gladly pay more for weather protected seating.
Together we can find a shade solution to fit your expectations, budget and site parameters. Our thorough design service starts with concepts,  designs and technical engineering prior to work commencing on construction.  Construction sees the culmination of your designs transforming that dull space into a fabulous dining area, restaurant, playground or the best seat in the house to view a game or event.
Talk to us about making magic happen.
Ambience
Shade Structures exude ambience with translucent light, soft fabrics and colours.
Cost Return
Quick returns on investment with popular weather protected outdoor dining.
Popular
Lights, blinds & heaters added to restaurants & cafe shade structures add further comfort.
Contact Us
Ph 4735 4800 to find how shade structures can benefit clubs, cafes & restaurants.
Featured Hospitality Project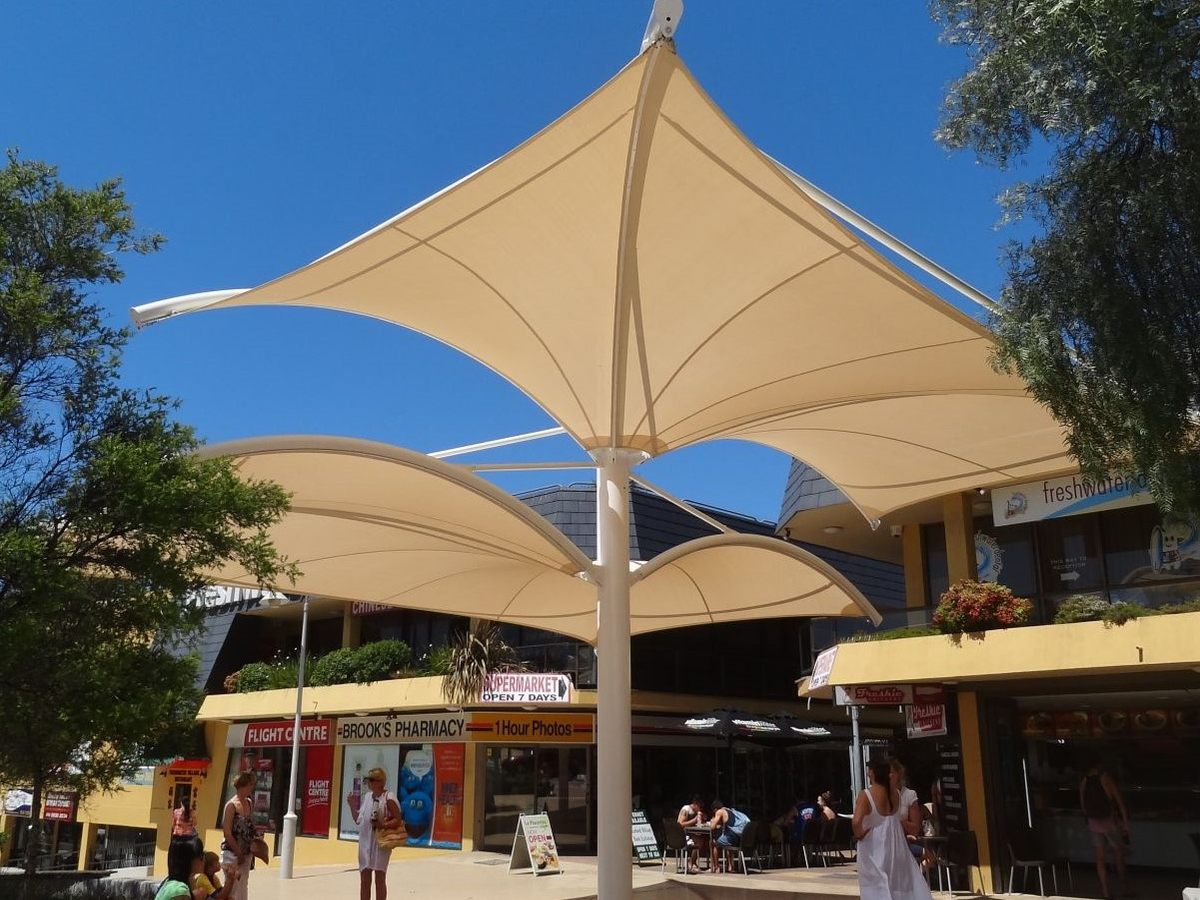 Freshwater Village Structure
A double claw umbrella shade structure offers the local community of Freshwater Village, Sydney a beautiful area to sit, have lunch, meet friends and enjoy a coffee. This stunning 100sm shade structure shades the Plaza creating a fresh, light and congenial place. Surrounding cafes and restaurants benefit from the community space.
Following concern from residents Council asked more than 2,730 residents and businesses in the area for submissions on how to beautify the space. By far the majority of respondants wanted a shade structure built to add more shading. The public consultation process took 2 years to complete but once awarded, the project was built in 2 months.
Very elegant in its play of design, light and ambience this has shade structure has become a focal point of the village centre.
View Hospitality Projects
For a Quotation on your Hospitality Shade Project
Abacus Shade Structures will provide you with a no obligation quotation for your project.  Please call our Sales team on 02 4735 4800 or 02 9831 1218 or use the form below.